The Big Draw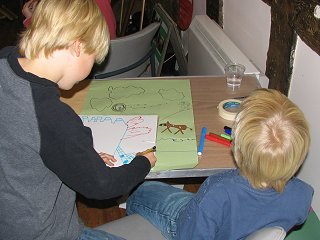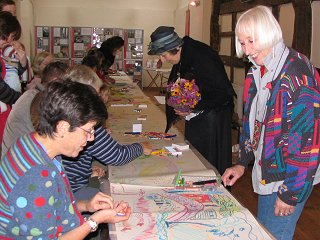 Every October The Campaign for Drawing promotes a nationwide month of locally organised events in which more than 1,500 venues, from village halls and nursery schools to national museums and castles, take part in The Big Draw. These events aim above all to get everyone, whatever their age and experience, drawing and enjoying it. In 2007 and 2008 BCHRC held its own Big Draw days, with activities based on local historical events.
Fire! Fire!
In 2007 two local performers presented Fire! Fire! a short dramatisation of a disastrous candle factory fire in Bishop's Castle in 1901, 'freezing' the action at key points on the story for the assembled artists to sketch using pencils, coloured pens and pastels. There were lots of other drawing activities on offer suitable for all ages, from huge doodles through seed head and matchstick drawing to observational drawing.
Toot! Toot! The Railway Returns
BCHRC's 2008 Big Draw event Toot! Toot! The Railway Returns created carriages from Bishop's Castle's long-defunct railway, with participants painting the carriages, the wheels, the passengers and even the landscape. Collage pigeons completed the scene, and at the end of the day the train was assembled and the landscape 'walked' past the carriages to get it on the move!